Music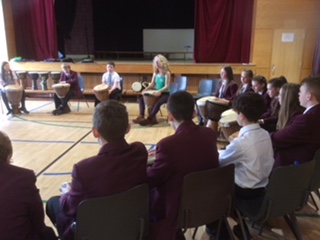 Music at St.Colman's is studied throughout years 8 ~ 10 (Key Stage 3) for one hour per week, being delivered by Head of Department Mrs Michelle Haughian.
At St.Colman's we aim to build on our pupils' previous musical experience, with a course in which all KS3 students are taught to read conventional music notation and ukulele chord tablature. This enables them to perform on musical instruments, such as keyboards, ukuleles and tuned mallet percussion, including xylophone, glockenspiel and metallophone.
Our KS3 musical provision broadens pupils' horizons and aims to give them the skills and knowledge they need to discover new styles and pursue the musical activities of their choosing.
Extra curricular Music
All students are encouraged to participate in extra curricular music at St.Colman's High and Sixth Form College. There are opportunities for all students to join the following music groups, of which rehearsals take place every week:
CHOIR ~ Thursdays @ 1 ~ 1:35pm;
STRING GROUP ~ Fridays @ 1 ~ 1:35pm;
UKULELE GROUP ~ Wednesdays @ 3:05 ~ 3:45pm.
Instrumental Tuition
Tuition is available on violin and piano.
"We are a caring and committed multi-faith school, confident in meeting the needs of every child."
52 Crossgar Road
Ballynahinch
Co Down
BT24 8XS