English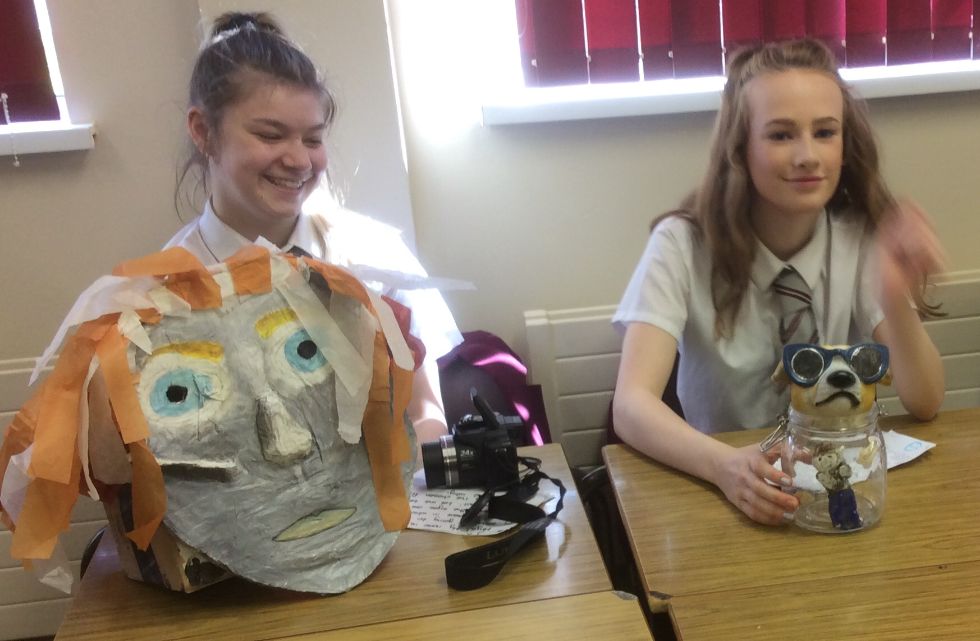 Staff:
Mrs M Fettes (Head of Department)
B Walsh (SENCO)
Mrs P Clarke (Literacy Coordinator)
Miss A Turner
Mr P Hazzard
Our Departmental Aim:
"Broadly, our aim is that every pupil in St Colman's has an enjoyable and rewarding experience of English through the delivery of the subject and that they reach their optimum potential in all areas of the English Curriculum."
We encourage an enthusiasm among the students for using the written and spoken word with care and precision, and the teaching of literature remains central to that aim, as has been the positive encouragement of imaginative writing. Primarily, we try to develop subject knowledge and enhance the specific skills of reading, writing and speaking and listening in accordance with the Northern Ireland Curriculum guide-lines.
We also seek to instill a critical awareness of the power of language, and the contexts in which it is used. The Department has a particular responsibility for encouraging accurate writing, which is reinforced by the whole school policy on the marking of English. We see the display of pupils' work as a positive encouragement in English.
There are obviously areas of wider school policy where the English Department would expect to support initiatives because of the particular nature of the subject. We seek to encourage self-respect, respect for others, mutual understanding and tolerance in line with the school's ethos through discussion, debate, and drama where appropriate.
Teaching styles/strategies
As in the rest of the school, we aim to create a relaxed, friendly, and open classroom atmosphere. This is only possible where the foundations of good discipline, high expectations of performance, and hard work have been established. A variety of styles and enthusiasms is perhaps more inevitable in English Departments than others, and is encouraged.
Didactic teaching is essential from time to time, but discussion - class, group or paired underlies much of our teaching. Constructive use of audio/visual presentation is also an inevitable and important part of our work in the classroom. The Department is increasingly I.T. literate and teachers confident in this regard are encouraged to use iPad technology to enhance presentation, but also as a part of the teaching process in its own right
Careful, constructive, and regular marking of written (and spoken) work underpins classroom strategies.
Standardisation meetings across the whole Department from year 8 to GCSE ensure shared standards for the setting and marking of work.
Where to find us:
The English Department is located on the lower floor of the school in Rooms C, D and E and one class is based adjacent to the well-resourced school Library. All the rooms are bright and welcoming with creative displays showcasing the work of our students.
All students are furnished with quality novels, text books and of course many iPad resources and iBooks to facilitate their learning. All students are given online library access codes so that they can read any books they require on their iPads.
What we offer:
Our students follow an innovative and creative course in English. English and English Literature at are offered at GCSE, and some students opt to continue their studies of English literature at A' Level with the Ballynahinch Area Learning Community.
The Key-Stage three course includes: the study of novels, poetry, drama texts and extracts from Shakespeare plays. In order to engage our students we explore texts ranging from the comedic 'Gangsta Granny' By David Walliams to the tense modern gothic tale 'The Woman in Black".
At GCSE all our students will study The Revised CCEA English Language GCSE and some will opt to study CCEA Literature. Texts recently studied include Shakespeare's "Macbeth", " The Necklace" by Maupassant, "Of Mice and Men" by John Steinbeck, "An Inspector Calls" by J.B. Priestley and the poetry of Nature and Conflict.
The English Department strives to employ innovative and memorable lessons. Our students enjoy learning Kung-Fu Punctuation, Interpreting Literature through Art Exhibition Lessons and using our iPads to create short films and Shadow Puppet presentations.
What we do best:
Our students' success in GCSE English Literature is to be applauded. Last year 100% of students attained an A*- C grade with over 50% attaining an 'A' or 'A*' grade! Every year we attain over a 95% success rate and many years replicate the success of 2017.
Extra-curricular offer:
The English Department runs reading-support lessons, trips to theatre productions and works closely with our friends in the other schools of the Ballynahinch Area Learning Community.
Recently we attended a creative writing workshop in Assumption Grammar which was led by the renowned local writer Sheena Wilkinson and in January 2018 we will take part in another author visit by the Dublin-born writer Sarah Crossan whose wonderful novel "Moonrise" was shortlisted for the Costa Children's Book Award 2017!
We recently completed a joint poetry anthology with our friends in Ballynahinch High School entitled "Your Place and Mine" in which our students wrote personal poems reflecting on life in Co. Down. Proceeds from the sales went to fund a joint celebratory party.
We also are lucky to receive great support from the Library Service. This year our Year 8 students were invited to an hour of story-telling by Liz Weir, a Northern Irish author, who was the first winner of the International Story Bridge Award from the National Storytelling Network, USA, which cited her "exemplary work promoting the art of storytelling".
Documents
Each class has written a chapter and this is the work of 8RC
Useful Weblinks
The School is not responsible for the content of external Internet sites. We recommend adult supervision for all links to external sites.
"We are a caring and committed multi-faith school, confident in meeting the needs of every child."
52 Crossgar Road
Ballynahinch
Co Down
BT24 8XS